Chris Brown Is Angry That His Daughter Royalty Wears a Tutu to Dance Class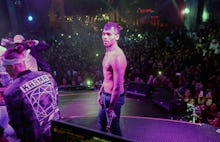 Chris Brown, the singer-songwriter best known for pleading guilty to beating then-girlfriend Rihanna in 2009, is not happy about the way his daughter Royalty was dressed in a recent photo he uploaded to Instagram.
Screenshots of the post, which the International Business Times reported has since been deleted, made it to popular gossip Instagram The Shade Room and Hip Hollywood. In the post, Brown seems to attack Royalty's mother Nia Guzman for dressing his daughter in a tutu for dance class.
"It's crazy to me that a parent would OK dressing our daughter like she 16," Brown wrote. "I ain't cool wit that. She is 2!!!!"
Guzman responded, "If anybody thinks something is wrong with a baby... mad at the world in dance class... in her TUTU... U need to go pray! #Namaste."
Brown responded saying he wasn't there to argue, adding "Dance class is fine even with the leotard," reported IBT. "The pics just looks risky in my opinion, this isn't a debate. She is 2. I ain't talking about it on social media any longer. I said my opinion."
While Brown's opinions on his daughter's state of dress might raise their own issues (at least a few social media users have accused him of sexualizing his own daughter), raising his concerns via his very public Instagram page raises yet more of them — especially given Guzman filed for the singer's access to his daughter be limited following incidents in which Brown allegedly smoked weed around her earlier this year. The singer has a long history of gross behavior, including mocking 20-year-old singer Kehlani's attempted suicide in March, and a well-known pattern of abuse towards women.
"I take care of my daughter, and I would never ever put her in a position that will harm her," Brown wrote in another post concerning the allegations. "My daughter is my pride and joy, and I will not be played because my lifestyle is different from the other parties involved. This really has to stop."