Courtney Barnett May Have Been the Best Musical Guest on 'Saturday Night Live' This Season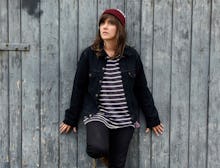 Don't know about Courtney Barnett? If the near-universal reaction to her performance on the Fred Armisen-hosted season finale of Saturday Night Live is any indication, her name may be about to become household. The 28-year-old Australian indie rocker performed two songs off her debut album, Sometimes I Sit and Think, and Sometimes I Just Sit: the zeitgesitily-titled "Nobody Really Cares If You Don't Go to the Party" and "Pedestrian at Best." There was no flash, just Barnett in a T-shirt and jeans absolutely killing it, at least in the internet's view.
"When was the last time SNL had a real, honest to goodness, stripped down guitar rock set prior to @courtneymelba?" @FeedbackBos wrote. "Seems like years."
Barnett gained a Grammy nod for best new artist in late 2015, which, as Billboard reported, made a somewhat surprising fit in a set of new pop names pretty much everyone already knew: Sam Hunt, Meghan Trainor, Tori Kelly and James Bay. The artist herself was caught somewhat off guard. "I've never followed the Grammys," she told Billboard, explaining that "it's just nice to have that recognition on such a huge international scale." 
"I just do my own thing," Barnett said. "I'm not so concerned about what everyone else is doing and what the trend is."
Doing her own thing on Saturday made for a performance Consequence of Sound called "one of the more impressive SNL debuts in recent memory," and Rolling Stone named "one last stop on her victory tour." ( Though it's not the last stop: Barnett has many more shows on the horizon.) 
Check out "Nobody Really Cares If You Don't Go to the Party" here and "Pedestrian at Best" here.
Read more: Courtney Barnett Albums, Music and More: What to Know About the Best New Artist Grammy Nominee