Alleged Domestic Assault Broadcast Over Livestreaming Site Twitch.tv Sparks Investigation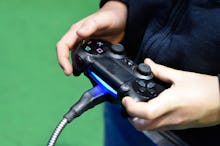 Audio recordings uploaded to YouTube earlier this month caught what appeared to be a man beating a woman over livestreaming service Twitch, leading New Mexico authorities to open an investigation, reported KRQE News 13.
The six-minute recording, which went out via a Twitch streamer using the username JoeDaddy505, covers several minutes of argument during which an unidentified man calls an unseen woman a "bitch," a "whore," and a "slut," as well as the sounds of a physical struggle. During the clip, the woman can be clearly heard telling the man to "get off me" and threatening to call law enforcement.
A Twitch profile under the JoeDaddy505 username has been disabled, with the site saying "The community has closed this channel due to terms of service violations." According to Jezebel, a variety of social media accounts using the same name were also taken offline.
Twitch would not comment on the specific incident to Jezebel, but did issue a statement saying the company "reaches out to appropriate law enforcement in cases where there is a credible threat of imminent physical harm or actual harm to others, and provides them with information sufficient to respond to the immediate incident to the extent we have it."
On Twitter, users responded with near-universal disdain, with a number of accounts posting threats to the livestreamer's life. Others posted insults and speculated if the man in question had been arrested.
According to the International Business Times, the "online response has included condemnation of Twitch users who apparently joked while listening to the alleged assault." At least one version of the clip uploaded to YouTube included multiple people laughing over a playing of the recording. Alleged screenshots obtained by IBT showed a user going by the name JoeDaddy505 explaining the incident in question as a domestic assault, not a rape, although they could not be independently verified.
"This is a dire side-effect of anyone having the ability to broadcast their life on the internet, good moments and otherwise," wrote Engadget's Timothy J. Seppala. "Last month, a Periscope user was indicted for broadcasting her friend's sexual assault."
According to Jezebel, cached versions of the JoeDaddy505 account identified the man behind the video as living in the New Mexico area, and KRQE reported  that Valencia County Deputies "received an anonymous tip about the possible domestic violence assault. Now the department is investigating."
Read more: Sexual Assault Survivors Are Outing Their Rapists on the Anonymous Corners of the Internet