Kim Kardashian West Says She's Over Contouring, It's All About "Nontouring" Now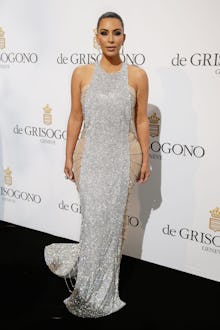 Was it body contouring that sent Kim Kardashian West over the edge, like, "that's it, no more, this trend has gotten just way out of hand?" Or was it just that nothing gold-and-bronze-shaded can stay? Whatever the cause, the mother of contouring has called it: contouring is out, "nontouring" is in. 
As Jezebel reported, Kardashian West made the #ShockingDeclaration at Vogue Festival, while engaged in pre-arranged chatter with makeup artist Charlotte Tilbury and editor-at-large Fiona Golfar. 
"I think right now it's more about nontouring, like real skin with less makeup on it," Kardashian West told a "packed auditorium" on Saturday, according to Vogue. "I'm trying to wear less... and my husband loves me without makeup," she added, a verbal wink at husband Kanye West, seated in the front row.
"I'm really into strobing now, so just highlighting the skin without using bronzer," she continued. "I love contouring and I don't think I'd stop contouring my nose — I know people think I've had a nose job but it really is just make-up!" So: contouring, no; strobing, very yes. 
Kardashian West explained that she now carries only a "small makeup case" when traveling, which includes a number of Tilbury's products and some pared-down contouring/strobing tools. 
The reality TV star didn't say specifically what sparked the change, although she did note that "for my first baby [North] I gave birth in full makeup, but none for my second [Saint]." Could it be that less makeup means a more comfortable state of existence? Was that very involved beauty regimen chomping too large a bite from her daily schedule? Or is it just that trend-setters must move on the minute their ways are adopted by the masses? 
Whatever her reason, Kardashian West brought contouring into this world (or at least, the mainstream) and she can take it out. Goodbye, contouring — it hasn't been real in the slightest.
Read more: Contouring "Sends a Bad Message" to Women About the Need to Change Your Face