Bernie Sanders Finally Goes There, Calls Hillary Clinton "Lesser Of Two Evils"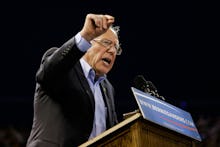 Sen. Bernie Sanders — who was mathematically eliminated from winning the Democratic nomination for president with pledged delegates alone earlier this month but continues to pin his hopes on a long-shot convention fight — has sharpened his attacks on current front-runner Hillary Clinton and the Democratic National Committee.
Case in point: On the May 22 edition of This Week With George Stephanopoulos, the democratic socialist from Vermont described Clinton as the "lesser of two evils."
"We need a campaign, an election coming up which does not have two candidates who are really very, very strongly disliked," Sanders said. "I don't want to see the American people voting for the lesser of two evils."
"I want the American people to be voting for a vision of economic justice, of social justice, of environmental justice, of racial justice," he added.
When Stephanopoulos asked him if he stood by the wording "lesser of two evils" to describe Clinton, Sanders tried to play off the comment as simply reflective of what other people were saying (just a retweet, so to speak). 
"I wouldn't ... but that's what the American people are saying," Sanders told the host. "If you look at the favorability ratings of Donald Trump and Hillary Clinton, both of them have very, very high unfavorables."
In another interview with CNN on Sunday, the New York Times reported, Sanders said he would not reappoint current DNC chair and Florida Rep. Debbie Wasserman Schultz, who has often made life difficult for the candidate on the campaign trail. A substantial number of Democrats have accused the congresswoman of using her role at the DNC to unduly favor Clinton during this campaign season.
While Team Clinton is probably ripping out their hair over Sanders' comments, the senator's analysis is essentially correct. Both Clinton and presumptive Republican nominee Donald Trump boast historic unfavorable ratings, although Trump's liabilities are much higher, particularly with women, Latinos and black people. Recent polls indicate the two candidates are in a virtual dead heat, although they have roughly six months left until the general election to savage each other.
Read more: The Bernie Sanders-Hillary Clinton Sketch on 'SNL' Perfectly Sums Up the 2016 Election