Gabrielle Union to Teens Struggling With Self-Esteem: "You're Dope and Fly and Amazing"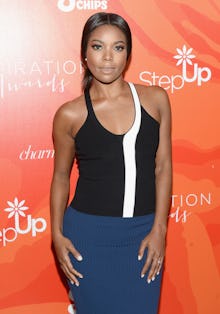 "Joke" and "loser" are two words most people probably wouldn't use to describe actress Gabrielle Union, who has for decades featured in wildly popular TV shows and movies. But as she explained in a speech given at Step Up's 13th annual Inspiration Awards on Friday, those are two words she long used to describe herself.
As Variety reported, the mentorship organization honored Union at its 2016 ceremony, where she took the opportunity to make a statement about the damage double standards do to self-esteem.
Union explained that she was always cast as the "token black friend," in reality and on-screen. "Along with being the chip in the cookie at a very young age came the advice from my parents ...'You are gonna have to be bigger, badder, better just to be considered equal,'" she said during her speech.
"What [that advice] does to the self-esteem of a small child is to say that, 'You are always going to not be good enough,' and I started internalizing that," Union said.
"Anything good that happens to you, it will be in spite of it, and soon they'll figure it out. Anything bad that happens to you, it's because you're a joke and a loser."
That was the narrative when Union was raped at 19, when she went through a divorce or when a show was canceled. She saw these moments as personal failings, and it manifested in anger.
This continued until her friends pushed her to replace "joke and a loser," with "dope and fly and amazing"; very much worthy of the praise she'd earned, undeserving of the shame she heaped on herself. 
"I am worthy by birthright," Union continued. "I am fierce and fabulous because I breathe. All of us here in this room, we are worthy, we are valid, our journeys are real and worthwhile, and there's nothing that anyone can do to take that away from us." 
"Newsflash: People will judge you whether you discovered a cure for cancer or sit on the couch," Union said. "You might as well live."
Read more: Kesha Has a Powerful Message for Body-Shaming Trolls: "Get Over It"