Listeria Outbreak Triggers Recall of Frozen Foods From Trader Joe's, Other Retailers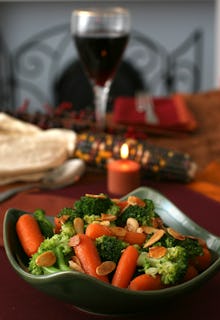 There's no time like the present to clean out the freezer. As the New York Times reported Sunday, CRF Frozen Foods has issued a recall of over 350 frozen foods from 42 brands for fear of listeria contamination. The affected retailers span North America and include Earth's Pride, Panda Express, Signature Kitchens and — sorry about this one — Trader Joe's. 
"Unquestionably, this is a lot of product,"  Matthew Wise, head of the Centers for Disease Control and Prevention's outbreak response team, told the Associated Press. "It reflects the severity of listeria as an illness, the long duration of illnesses and the outbreak and the long shelf life of the products." 
This is a continuation of the processing plant's April 23 recall, subsequently expanded on May 2. According to the Times, listeria cases resulting from CRF's frozen goods first surfaced in March 2013 and have continued to do so since. There's no word yet on just how many units of potentially contaminated goods have shipped, but they've reportedly landed in all 50 states, plus Canada. 
The recall covers "all organic and traditional frozen vegetable and fruit products" to come out of the Pasco, Washington plant since May 1, 2014, according to the CDC. These products will have best- or sell-by dates between April 26 and April 26, 2018, according to the Food and Drug Administration.
Eating foods tainted with Listeria monocytogenes can lead to listeriosis, symptoms of which include fever, aching muscles, diarrhea and confusion. It compromises the immune system, and can present itself in the form of meningitis or septicemia. In pregnant women, it can lead to miscarriage or a baby born with meningitis. Listeriosis can be fatal, and indeed, it's possible that it has been for two of the eight people the outbreak has infected so far, the Times reported.