Mullah Akhtar Mansour, Head Of the Taliban, Killed in U.S. Drone Strike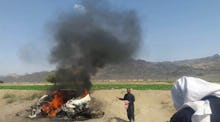 Mullah Akhtar Mansour, the leader of the Afghan Taliban, was killed by a U.S. airstrike on Saturday morning near the town of Ahmad Wal on the Pakistani side of the nation's border with Afghanistan, CNN reported.
The kill was confirmed by both U.S. Secretary of State John Kerry and the Afghan National Security Directorate, according to the BBC.
"Mansour played a key leadership role in not only orchestrating the Taliban but orchestrating a variety of other organizations to include the Haqqani Network and al Qaeda who were perpetrating operations against not only U.S. forces but coalition forces and Afghan forces for a long period of time," said U.S. Central Command Gen. Joseph Votel at a press conference in Amman, Jordan. "He's an individual who has been in that structure for a long time. I'm glad he's gone."
According to a recent profile in the New York Times, Mansour had a beneficial relationship with the Pakistani Inter-Services Intelligence agency, as well as ties to Ishaqzai narcotics rings. As chief of aviation and tourism in Afghanistan in the 1990s, he rose to power as other members of the Afghan Taliban died amid the insurgency that has rocked the country since 2001, when the U.S. toppled its government.
The government of Pakistan considers the attack a breach of its sovereignty, reported CNN. According to the Bureau of Investigative Journalism, up to 4,000 people have been killed in Pakistan since U.S. drone strikes began in 2004, including between 423 and 965 civilians.