Kesha's Rendition of Bob Dylan's "It Ain't Me, Babe" Proved Her Haters Wrong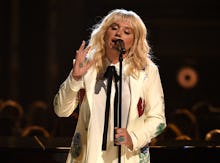 After a rough week of back and forth with her label, Kesha took the stage at the 2016 Billboard Music Awards to pay tribute to Bob Dylan. In the process, she showed us a side of herself we've too rarely seen. 
Sunday night's song was her first major televised performance since she began her court battle with her producer Dr. Luke in October 2014. Instead of performing one of her hits she wrote with Dr. Luke, she gave a tribute to one of her idols — performing Dylan's classic break-up anthem "It Ain't Me, Babe." 
Kesha sounded absolutely stunning, proving she doesn't need any of his autotune or maximal synths to shine.
All last week, Kesha's Billboard Music Awards performance hung in a state of limbo. When Kesha was first announced as talent for the awards show, a wave of rumors suggested that she was planning to make a "statement performance," as TMZ phrased it, which would "make direct references to her ongoing legal battle with Dr. Luke." In response, Dr. Luke's Kemosabe Records suspended her performance. 
Kesha's mother and Lady Gaga both criticized the record label's move, with Gaga comparing Dr. Luke to Disney villain Ursula from The Little Mermaid, the character that takes Ariel's voice away.
The label only lifted Kesha's suspension after it "obtained assurances," as they wrote in an official statement sent to Mic, "that neither Kesha nor her supporters will use the performance as such a platform."
She didn't even need to address the controversy to create an extremely emotional moment. It gave her fans, who haven't heard a new Kesha album since 2012, life.