Madonna and Stevie Wonder's Prince Tribute at the BBMAs Was Criminally Underwhelming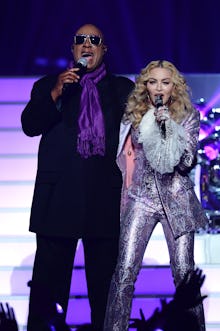 Prince fans were already very skeptical of Madonna's proposed tribute at the 2016 Billboard Music Awards. A petition calling for her to be replaced drew 8,937 supporters, leading the show's producers to stand up to defend the tribute. 
"Listen, I think everybody is entitled to their opinion and everyone can have their own opinion, but I will say that we are honored and could not be more excited for Madonna to be on the show and to pay tribute to someone that was her friend and her peer and her colleague," Mark Bracco, the Billboard Music Awards executive producer told the Associated Press. "I think it's going to be fantastic."
Unfortunately, most of Twitter didn't think the same. Even Stevie Wonder, whom Madonna brought out to help her sing "Purple Rain," couldn't save the performance. Their rendition of that iconic song and "Nothing Compares 2 U" were lifeless. They only made Twitter miss Prince even more.
In contrast, Questlove's introduction, describing Prince's death as an "earthquake" for the music world, felt sincere and truly heartfelt. The awards show probably just should have left it at that.