Britney Spears Just Reclaimed Her Pop Throne — But Why Is Twitter So Mad?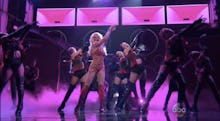 Britney Spears is back. The star opened the Billboard Music Awards on Sunday night with a high-energy performance that included everything from a cover of Joan Jett's "I Love Rock 'n' Roll" to gratuitous amounts of gyrating atop a giant guitar set piece. 
While Spears' fans took to Twitter to gush about her set, haters couldn't help but point out that the 34-year-old pop star seemed to be phoning in her performance in the vocal department.
"Britney Spears been MIA only to come back in lip-synch the entire performance," user @Brian_Bee said, harmonizing with a choir full of skeptics.
But Spears' diehard fans were quick to rush to their queen's defense, pointing out that the "Toxic" singer has been frequently criticized over the years for her lip-synching.
"After TWENTY years of lipsynching, you'd think the Britney Spears haters would AT LEAST come up with a different reason to be upset," Twitter user @___Vin pointed out.
In addition to performing, Spears, whose "Piece of Me" show is currently open at Planet Hollywood in Las Vegas, will also receive the Billboard Millennium Award during Sunday night's ceremony. Watch the full performance below.