Demi Lovato's Shirt Made a Huge Statement for Trans Rights at the BBMAs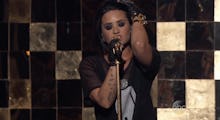 Demi Lovato rocked the Billboard Music Awards on Sunday night with a performance of her hit song "Cool for the Summer." But it was the symbol emblazoned on her shirt that ended up making the biggest waves.
Lovato's shirt prominently featured a symbol of solidarity with the transgender community. In a tweet, GLAAD acknowledged Lovato's subtle message.
In a blog post, GLAAD also thanked the artist for bringing visibility to the issue in the midst of a national debate over the transgender community's right to use the bathroom that corresponds to their gender identity.
"Demi Lovato continues to be a fearless ally for LGBT equality and acceptance," GLAAD President and CEO Sarah Kate Ellis said, according to the post. 
She continued, "By wearing her support for the transgender community, Lovato is raising critical visibility for vulnerable LGBT North Carolinians and sending an invaluable message of support to transgender people everywhere."