Lawsuits Dog Donald Trump on Path to White House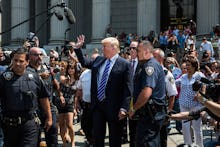 In his quest for the presidency, Republican Donald Trump has been mobbed by followers who want to get a piece of the action.
Among them: The taxmen.
Read more: Donald Trump Campaign Admits It Didn't Actually Raise $6 Million for Veterans
As he builds his pitch for the White House on boasts about his business acumen, a USA Today study found that The Donald's "businesses have been involved in at least 100 lawsuits and other disputes related to unpaid taxes or how much tax his businesses owe."
The Manhattan billionaire has staunchly refused to release his tax returns — a common practice for presidential candidates — because he says he's waiting for the outcome of ongoing audits .
The last time they did become public, in a 1981 report by gambling authorities in New Jersey, the returns showed he'd paid nothing, as the Washington Post reported.
The self-proclaimed billionaire, who's said trying to pay as little as possible to the feds is just smart business, has vowed the wealthy will pay more in taxes if he's elected — and that he's willing to chip in more himself.
But according to USA Today's research,
The lawsuits and other tax-related disputes show a different reality for his businesses. They illustrate a pattern of systematically disputing tax bills, arguing for lower property assessments, and in some cases not paying taxes until the government takes additional action.
Just since Trump jumped into the contest for the Oval Office, at least five of his myriad companies were hit with warrants totaling more than $13,000 for unpaid or late New York taxes, the paper found.
He also tries to have it both ways when it comes to the value of his holdings, which he initially set at more than $10 billion: In federal financial disclosure reports mandated for candidates, he has routinely valued his properties much higher than he has when tax season comes around.
Take his gilded Palm Beach estate.
Trump bought that property, Mar-a-Lago, for $10 million in 1985, calling it a steal in his bestselling The Art of the Deal. But he protested when the assessment went as high as $17 million, resulting in a legal battle that stretched into 1993, USA Today said.
The real-estate mogul has also gotten into tax tangles closer to home, fighting over the value of his Westchester County Trump National Golf Club. Tax agents set the value of the 140-acre spread at more than $14 million; Trump wanted to shear the taxable value by 90%.
Trump has resolved some of his tax disputes, often to his benefit. But his resistance to opening his records has earned him criticism from likely Democratic nominee Hillary Clinton, who has said he's avoiding disclosure for fear of showing the public that he's actually not paying a dime.
The GOP's 2012 nominee, Mitt Romney — a successful businessman in his own right and no Clinton fan — has also warned that there could be a "bombshell" in Trump's records.
Trump is under particular pressure on the property and sales tax issues because the cornerstone of his campaign is his claim he can translate his business chops into great deals for the American public.
As a candidate, Trump, who continues to run his multifaceted business empire even as he draws closer to capturing the GOP nomination at July's convention, is now not only fighting the taxman, but critics who say if he's as savvy in the boardroom as he claims, he should just open the books and prove it.