This Teenager Just Graduated From College — He Hasn't Even Graduated From High School Yet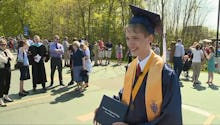 Jordan Leslie is a modern-day Benjamin Button. The 17-year-old from Sheboygan, Wisconsin, received his college degree on Saturday — before he'd even graduated high school. 
Leslie graduated from Lakeshore Technical College with an associates degree in Information Technology. He is on track to get his high school diploma in June.
"I've never known anyone nearby that's done that before so I was like, 'You know what, I'd love to do it; I'd love to try and go for it,'" Leslie told Fox 6 Now. "And if I go for something I'm going to give it my best. That's just how I am."
After Leslie left public school to enroll at charter school George D. Warriner High School, he met a student advisor who saw greater potential in the then-15-year-old and made an unorthodox suggestion.
"Once he saw how ambitious I was, he said, 'Let's try something new,' and that's when we decided I would go for my associate's before I graduate," Leslie told Sheboygan Press. "It seemed kind of far-fetched at the time, but once he brought up the idea, I was like, 'I'm going to do that!'"
And if that didn't make you sufficiently feel like an underachiever, Leslie maintained a perfect 4.0 grade point average at both LTC and Warriner, where, naturally, he will graduate as valedictorian. 
In other news, we're going back to bed.