This Entire Family Just Graduated in the Class of 2016 — And the Photo Is Going Viral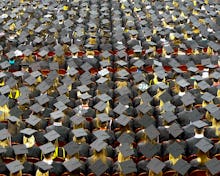 When Shenitria Myles and then-boyfriend Mario Myles found out they were expecting a baby their sophomore year at Xavier University of Louisiana, everyone expected them to drop out.
The couple told local television station WWL that their family, friends and peers assumed that was their only one option after getting pregnant.
"Some questions I had even from fellow classmates were like, 'Oh you're pregnant so you're going to leave school and find a job,'" Shenitria said. "And it was like, 'No, I'm pregnant, I'm going to have my child and then I'm going to come back and graduate.'"
The couple delivered big on their promises to stay in school. This month, Shenitria, Mario and their son Mario Jr. all graduated in the Class of 2016 — Shenitria, with a juris doctorate from Loyola University, Mario from Xavier and Mario Jr. from Lake Forest Charter School kindergarten.
Shenitria showed off the family's accolades in a photo on Facebook that went viral:
Shenitria told WWL she hopes the photo and her story motivates other mothers to finish their degrees, "especially the moms who either dropped out or who were unsure about re-registering," she said. 
So far, it seems to be working: Shenitria said she spoke to a mother who gave birth two days before her interview with the local news station, and she told Shenitria she was inspired to re-register for classes in the fall. 
"Everyone has a circumstance, right?" Mario told WWL. "So I think your circumstance should not determine your destiny. The second part of that message is to make a plan and persevere. You can't lose sight of the plan."
Read more: These Photos of Black Moms Graduating in the Class of 2016 Will Melt Your Heart