See Emma Watson as Belle for the First Time in the 'Beauty and the Beast' Teaser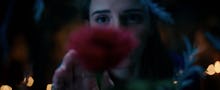 Nearly 25 years after Disney first welcomed audiences into Beast's Castle, the studio is asking fans to be their guest once again.
Read more: Emma Watson Was Just Cast in Disney's Live-Action 'Beauty and the Beast'
The first trailer for Disney's Beauty and the Beast live-action remake debuted Monday morning, featuring an extended look at the opulent world of the film. It also provides the first brief glimpse at former Harry Potter star Emma Watson as Belle.
"Look, a girl," living candlestick Lumiere (Ewan McGregor) says off-screen as the door to Beast's Castle opens. 
"I can see it's a girl, you fool," says sentient clock Cogsworth (Ian McKellen) retorts, still obscured from viewers' eyes.
Suddenly, the camera turns to Beauty and the Beast's iconic rose, as vividly red as ever. A girl slowly approaches the flower, her face obscured by its petals. Yet just her eyes are enough to make clear: This is Watson's Belle.
"What if she is the one?" Lumiere asks.
The answer to that question — along with the rest of the tale as old as time — will have to wait. Beauty and the Beast hits theaters March 17. Watch the teaser below.