#MyDepressionLooksLike Shines a Light On the True Faces of Mental Illness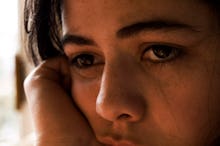 In honor of Mental Health Awareness Month, a conversation about the realities of living with mental illness is going viral. Thousands of Twitter users have shared their experiences with clinical depression via the hashtag #MyDepressionLooksLike, which encourages people who struggle with the condition to break stigmas and show how the symptoms of mental illness look different for everyone. 
While the hashtag was first posted on Twitter months ago, it started trending again on Sunday after several women encouraged their followers to share photos and stories with the hashtag.
The hashtag was also tweeted alongside the much older hashtag #MyAnxietyLooksLike, to demonstrate how anxiety and depression have unique yet cumulative effects on a person's mental health. (The two are often co-morbid, and nearly one half of those diagnosed with depression also have an anxiety disorder, according to the Anxiety and Depression Association of America.) 
Journalist Amanda Alcantara, 25, aka RadicalLatina, said in a phone interview that she started the anxiety-related hashtag in 2014, as a way to give Twitter users an outlet to speak openly about their experiences. 
"To see it now being used to build community was very validating for me," Alcatara said. "For me as a woman of color ... on Twitter I can find the community that I lack in person or isn't exactly accessible to me." 
Anxiety and depression are two of the most common mental health conditions in the United States. In 2014 the National Institute on Mental Health estimated that 15.7 million adults experienced a period of debilitating depression, as did 2.8 million adolescents ages 12 to 17, or around 11.4% of the teenage population. Young women are more likely to suffer from anxiety in particular than their male peers. 
Alcantara said these hashtags help those who suffer from depression or anxiety speak out while knowing they are not alone. 
"Every time I tweet about my mental health it's scary," said Alcantara. "But [tweeting means] talking and meeting other people, inspiring each other and breaking the stigma."