Donald Trump Just Hit a Huge New Milestone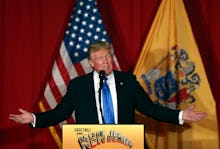 Does it feel real now?
Less than three weeks after effectively clinching the Republican presidential nomination, real estate tycoon Donald Trump has overcome likely Democratic nominee Hillary Clinton's early lead in the polls and is now running neck and neck with the former secretary of state — suggesting that the general election may be headed toward a photo finish, not a Democratic blowout.
Read more: Donald Trump: Hillary Clinton May Want to "Keep Her Eye" on Bill at the White House
For the first time since launching his improbable quest for the presidency in June, Trump boasts a nominal lead over Clinton in the closely watched RealClearPolitics polling average, edging her 43.4% to 43.2%.
One month ago — after Trump had rebooted his bid for the GOP nomination with a decisive victory in New York but before his victories in a series of Northeastern states and in Indiana finished off chief rival Texas Sen. Ted Cruz — Clinton enjoyed a 49.5% to 40.3% lead over Trump.
What's behind the tightening? Trump's benefiting in no small part from the consolidation of Republican votes behind his candidacy.
Take the ABC News/Washington Post poll released Sunday, which showed Trump leading Clinton 46% to 44% nationwide. Among Republicans, Trump led Clinton 85% to 8% — a sharp improvement from March, when the poll showed Clinton picking up 14% of GOP votes to Trump's 75%.
In a development that further underscores Trump's tightening hold on the party, even South Carolina Sen. Lindsey Graham — once a tribune of the GOP's #NeverTrump movement, is now urging colleagues to rally behind Trump's bid, CNN reported Sunday.
But Trump's climb in the polls isn't just a matter of uniting his own party. Independents are also trending his way, with the ABC/Post poll finding that Clinton has gone from a 48% to 39% lead with those voters in March to 35% to 48% deficit now — a 22-point swing in Trump's favor.
Trump has also seen his support among Democrats tick slightly upward, the poll found. Two months ago, Clinton led 86% to 9% with voters in her own party, while Trump now wins 11% of Democrats to Clinton's 86%.
An unpopularity contest: While Clinton boosters hope that Trump's often-incendiary rhetoric and his staggering unpopularity with key demographic groups will doom his bid, her own favorability ratings aren't much better than the brash billionaire's.
According to RCP, Clinton's average favorability rating stands at 37%, with her unfavorability rating at 56%. Meanwhile, Trump is viewed favorably by 35% of voters, while 58% view him unfavorably. FiveThirtyEight notes that the two are the most unpopular major-party candidates to face off in modern history.