Justin Bieber Was Banned From Performing in Argentina — And Fans Are Protesting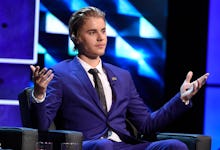 A mandate from the Argentinian government barring Justin Bieber from performing in the country has caused hundreds of fans to protest in the streets, demanding the pop singer be allowed to appear. However, Argentinian Beliebers might be upset to find out why he isn't allowed to bring his Purpose World Tour there to begin with.
After his security guards attacked a member of the paparazzi just outside of Buenos Aires in 2013 — a move he allegedly ordered — Argentina banned the Biebs from putting on shows there any longer, Forbes reported. The singer was also forced to apologize after he carelessly kicked and swept Argentinian flags his fans threw on stage with his microphone stand. 
It appears his most loyal Argentinian fans have put his antics behind him, and are demanding their government do the same. "If the judge has a heart, if he has a little blood in his veins, then he has to remove the complaint," one protester told The Sun. 
Bieber has since spoken out about the ordeal, writing on Twitter he wishes the Purpose World Tour would have a leg in Argentina. "Argentinian beliebers I would like nothing more than to bring the #PurposeTour there but until the legal conditions change there I can't."
Bieber's critically successful world tour features 114 performances earning the singer over $1 million per show, Forbes reported. 
Read more: In One (Failure to) Tweet, Justin Bieber May Have Just Cost Himself $650,000