Spilled Dildos in the Road Cause a Huge Traffic Jam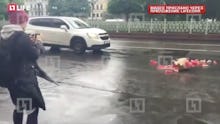 Rubbernecking takes on a new meaning when passers-by are craning their necks to catch a glimpse of a pile of rubbery dildos. 
A box of sex toys spilled out onto Tsvetnoy Boulevard in Moscow, RT reported, literally cock-blocking the road and causing some minor congestion. 
The dildo-carrying-car stopped at a traffic light at a pedestrian walkway according to eyewitnesses seen in a YouTube video, and then quickly accelerated when it turned green, causing the box o' dildos to pour into the road.  
Because it's 2016, no phallic mound goes unseen. Although no one appears to help this man collect his dildos and dignity in the middle of the road, they do stop to document the scene. Dick pics or it didn't happen. 
It's still not clear why this man needed dozens of dildos and where he was so hastily headed.