The World Is Drinking Less Alcohol, but Fear Not, America's Picking up the Slack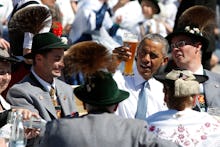 Cheers! Proost! Santé! Salud! 
Washing down some cold ones is an international pastime, but people around the world are drinking less alcohol for the first time since 2001, MarketWatch reported. Except for Americans, that is.
According to Euromonitor International, a market research firm, consumption fell from 249.7 billion liters in 2014 to 248 billion liters in 2015. (That's a 0.7% decrease.)  Global alcohol consumption has been steadily rising ever since Euromonitor International began tracking market trends in 2001, so this is an unprecedented dip. 
But there's some good news for the beer and spirits industry, at least: North Americans are still boozing it up. (Good job, 'merica!) In 2015, the continent bought 33.8 billion liters of alcohol, 700 million more liters than in 2014. 
Small batch brew-loving hipsters (and everyone else who likes fancy brewskis) might have something to do with it, too. The strong North American economy and the popularity of craft beer and microbreweries have given sales a bump, analyst Spiros Malandrakis told MarketWatch.
Other than suds, what else quenches America's thirst? Beer is far and away the beverage of choice for Americans, but 34% of Americans who drink say they prefer sipping wine, and 21% drink liquor most often, Gallup reported in 2015. 
Mo' money, mo' drinking: No matter the country, economic strength has a strong influence on alcohol sales. MarketWatch reported that the struggling economies in China and Brazil led to less alcohol consumption in 2015. Similarly, U.S. consumption fell during the 2008 to 2009 recession, a Harvard School of Public Health study showed. 
But in an ironic twist, wild nights might not be so great for the economy. A 2015 report from the Centers for Disease Control and Prevention found that binge drinking, aka consuming four to five drinks in a matter of two hours, cost the U.S. economy $250 billion in 2010 due to lost productivity and alcohol-fueled crimes. 
So... better rethink that last tequila shot. For your future self, and for your country.