11 Photos of India's Scorching Heat Wave Put United States' Warm Weather Into Perspective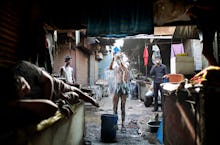 The entire globe is experiencing record-breaking temperatures lately — NASA found that April was the seventh consecutive month to surpass previously held global temperature highs.
Some in the United States are enjoying unusually warm 70- to 80-degree weather, chilling in parks and converting to all ice cream diets. 
But in other parts of the world, people are suffering in extreme heat. 
Specifically, those in India's desert state Rajasthan. 
It was 124 degrees there over the weekend. 
The people can't step outside without a sheet covering their face — and a drought has people drinking from public irrigation systems and murky ponds to stay hydrated.
"The main protection against heat is water," director of the Indian Institute of Public Health Dileep Mavalankar told the New York Times. "If you don't have adequate water or water gets contaminated, you might die because of diarrhea and dehydration in the summer." 
Plus, many don't have air conditioning or even a working fan in their homes to cope with the heat.
And it's not just Rajasthan — the heat is plaguing other cities like Mumbai and New Delhi too.
Here's a look at how global record-breaking temperatures are impacting the daily lives of people in India:
A girl drinks water from an irrigation tube in Jammu, India, on Saturday.
Indian workers nap under the shade of a truck on Monday.
Children join Buffalo for a dip in the pond to escape heat in New Delhi on Sunday.
The son of a migrant worker sleeps near an air conditioning shop in New Delhi on Tuesday.
People take cover under tree during sand storm in New Delhi on Monday.
An Indian worker sleeps in the shaded section of an overpass in Hyderabad, India, on Friday.
Father bathes son in Mumbai, India, on Monday.
Monkey cools off in a pond in Jammu, India, on Saturday.
An Indian migrant workers sleeps next to an air conditioner in a mosquito net on a steel box used to stow merchandise from a shop overnight in New Delhi on Tuesday.
A street vendor bathes watermelons in a canal to keep them fresh during drought in Jammu, India, on May 15.
A man rides a scooter with with a sheet protecting his face in Hyderabad, India, on Saturday.