A Twitter Troll Has Been Threatening to Kill Taylor Swift and Her Squad of Girlfriends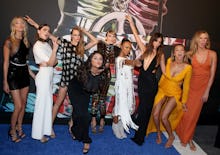 Police are on the lookout for an internet troll who has been threatening Taylor Swift and her famous squad, including models Gigi Hadid and Cara Delevingne, with death threats.
Over Twitter, the man has told Swift, "I will kill some of you," and told Delevingne, "I will kill your friends and I am excited about it," according to TMZ.  
Director Kyle Newman notified police after his wife and friend of Swift, Jaime King, told him about the threats. Despite having received a warrant to search through Twitter's records, police have yet to find a lead.
New mother Chrissy Teigen was also involved in the death threats, having received a message that said, "gonna give it one shot, but I probably gonna end up murdering your friends."
Swift, with her massive fame, has previously dealt with death threats before. After performing her song "We Are Never Ever Getting Back Together" at the 2013 Grammys, Swift was bombarded with threats by angry One Directioners who felt she was mocking her ex Harry Styles. In 2014, Swift shared with Esquire that she has to be surrounded by security guards because of the "sheer number of men" who threaten to "either kill me, kidnap me or marry me."
Read more: The Reason Why Taylor Swift and #SquadGoals Are Totally Disturbing