No On-Duty Officers Will be Working Beyoncé's Formation Would Tour Stop in Pittsburgh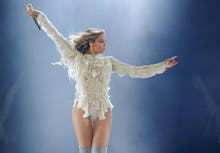 A blowout crowd is expected when Beyoncé takes the stage at Heinz Field in Pittsburgh next week. The one group that will be missing however, is the added presence of on-duty police officers. 
According city police Chief Cameron McLay, the venue attracted enough volunteer officers to ensure adequate security and that on-duty police would not be necessary, CBS Pittsburgh reported. 
"The facilitation of the flow of traffic in the City of Pittsburgh is a foundational responsibility of the Pittsburgh Bureau of Police," McLay said in a statement, the website reported. "The Police Bureau will ensure there are sufficient officers deployed to ensure citizens do not experience unreasonable traffic congestion or compromised traffic safety consistent with that responsibility."
The news, however, cannot help but raise eyebrows. Earlier this year the Lemonade singer angered many in law enforcement with the release of her single "Formation." The video for the song featured scenes which many took as anti-police and sparked call for a boycott. The National Sheriffs Association also denounced the video as something which could spark anti-police violence. 
The news out of Pittsburgh comes as police departments around the country have expressed reticence about working Beyoncé's concerts. Officials faced difficulty finding police to work a concert in Tampa, Florida, and even in Pittsburgh, police previously expressed resistance.
So far, despite the tension, Beyoncé concert's have proceeded without incident. 
Read more: Tampa Police Are Refusing to Work at a Beyoncé Concert for Her "Anti-Police" Performance