Zika Is in the US, and President Obama Says It's Time to Start Worrying About an Outbreak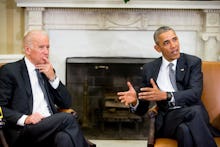 In February, President Obama requested $1.8 billion in emergency funds from Congress, in order to take action against Zika, a mosquito-borne virus that, at the time, had only just begun cropping up in the United States. On the same day, the Center for Disease Control and Prevention announced its officials had activated the agency's highest response levels for the virus. 
But last week, Obama suggested Congress has dropped the ball. According to the New York Times, the president has called for legislators to work through the Memorial Day break to compromise on a bill to combat the Zika virus. 
Read more: The Zika Virus Is No Longer Just Brazil's Problem: Here are 5 Things You Should Know
"They should not be going off on recess before this is done," said Obama on Friday at an Oval Office press conference. "To the extent that we're not handling this thing on the front end, we're going to have bigger problems on the back end." According to Obama, there have been at least 500 cases of Zika in the continental United States so far and over 800 in Puerto Rico, where the virus has already claimed its first fatality.
The House has only approved half of the $1.8 billion the White House originally pressed for (and which the Senate has already okayed), reported the Times. And at Friday's press conference, Obama emphasized Zika is markedly different from Ebola, a virus transmitted by humans, not insects. 
"New strains of mosquitoes become resistant to the insecticides that we have," said Obama. "The methods we use aren't as effective as they used to be. And so we're also investing a lot of time, research, logistical support to states and local communities to start improving our ability to control mosquitoes."
In an op-ed for the Washington Post, former White House Ebola response coordinator Ronald A. Klain explained what a full-blown outbreak could mean for the country, especially in light of the Zika-caused birth defects. 
"For years to come, these children will be a visible, human reminder of the cost of absurd wrangling in Washington, of preventable suffering, of a failure of our political system to respond to the threat that infectious diseases pose," wrote Klain.
In a tweet, Huffington Post editor Chloe Angyal pointed out why the U.S. would be ill-equipped to handle such a health emergency:
Said Obama on Friday, "We've got outstanding scientists and researchers who are in the process of getting this done, but they've got to have the support from the public in order for us to accomplish our goal."