BET Posted the Shadiest Tweet About Madonna's Prince Tribute at the BBMAs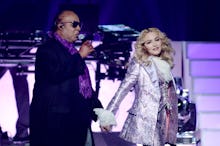 There's no way to sugarcoat it: Madonna's Prince tribute at Sunday's Billboard Music Awards was cringe-worthy. Her rendition of Prince's ballad "Nothing Compares 2 U" was bland. There was no epic guitar shredding, no joyful vocal stabs. Even Stevie Wonder couldn't spice up the mood when the tribute reached its supposed climax during the final chorus of "Purple Rain."
Read more: Madonna and Stevie Wonder's Prince Tribute at the BBMAs Was Criminally Underwhelming
Fan reactions ranged from disappointed to appalled to down right venomous. Right there in the middle of the maelstrom, another upcoming award show was taking notes and throwing some very sly shade Billboard's way. Shortly after the broadcast ended, the BET Awards, coming up in June, teased their own Prince tribute in a video. It bore the message: "Yeah, we saw that. Don't worry. We Got You."
Oh, the shade of it all.
Their promise was music to the exhausted ears of Prince fans.
The BET Awards have a great track record of honoring recently deceased icons. Michael Jackson's James Brown tribute in 2003 was a joy. Its 2009 tribute to Jackson, in turn, wove throughout the entire awards show, alternating between being an earnest celebration of his life and a sober reflection on what his death means for those of us left.
Fans will have to wait and see if the BET Awards can back up that thrown dagger of a tweet and give the same send-off to the Purple One when they air on June 26.