The Razr Might Be Making a Comeback With a Touchscreen and Fingerprint Sensors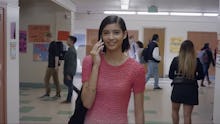 Does the sound of kissing metal at the flinging shut of a Razr flip phone give you a pelvic tingle? You may be in luck. 
Motorola recently released a video of high school students on their Razr flip phones set to the tune of 2006 hit "Great Escape." Weep not for the past.
"Flip back to the Razr days of yesteryear and get ready for the future," the caption reads, teasing a June 9 event during which a refreshed Razr may rise from the ashes.
It's no surprise Lenovo, which now owns Motorola, may be bringing back the phone that flipped its way into millions of hearts in the early aughts. The Motorola Razr, first released in 2004, had sold over 50 million handsets by the summer of 2006, Digital Trends reported. People were obsessed with the clamshell. 
But don't expect the new Razr to look like you remember it. It's 2016 and Lenovo is probably going to flip the shit out of this baby, according to leaks reported by 9to5Google. We're talking a higher-resolution display and camera. Touchscreen. Fingerprint sensors. Modular design. A more powerful battery. Autofocus. In other words, on June 9, Lenovo could unveil a phone with the guts of a smartphone stuffed into the body of a Razr. 
The teaser video from Motorola isn't a guaranteed sign that the mobile phone manufacturer will unveil a flip phone at its June 9 event — it could be just that: a tease. 
But there's still hope that the future may be filled with gratifying hang-ups. *Click*