New Law Eliminates Outdated Minority References Like "Oriental" From All Federal Laws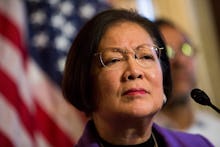 President Barack Obama signed a bill into law Friday that eliminates the usage of outdated racial terms, such as "Oriental," "American Indian" and "Negro," in federal laws.
The terms were long used in two section of the U.S. code to differentiate minority groups, and are generally regarded as disrespectful and offensive, given the discrimination those groups have historically faced. "Our country is a rich tapestry of cultural backgrounds, and Americans of all backgrounds deserve to be treated with dignity and respect," bill co-sponsor Rep. Ed Royce (R-Calif.) said in a statement, according to CNN. 
The bill — HR 4238, sponsored by New York Democratic Rep. Grace Meng — seeks to "modernize terms relating to minorities." With the bill, minority references in previously existing laws will be replaced to more politically correct ones, such as "African-American," "Native American" and "Hispanic." 
Title 42 in the U.S. Code from the 1970s will replace all references to "Oriental" with "Asian American." Meng called "oriental" an "insulting and outdated term," according to CNN. 
The House unanimously passed the bill on Feb. 29, and on May 9, the Senate did the same. The bill had 76 cosponsors, including every member of the Congressional Asian Pacific American Caucus. 
"After months of advocacy in both chambers of Congress, derogatory terms in federal law will finally be updated to reflect our country's diversity," Hawaii Democratic Sen. Mazie K. Hirono said, according to NBC News. "Mahalo to President Obama for his quick action." 
Read more: What Is "Reverse Racism"? Here's Why It Doesn't Actually Exist in the United States