7 Trump-Hating Republicans Who Now Support Donald Trump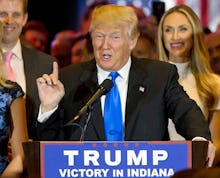 #NeverTrump? More like #OkayFineTrump.
Donald Trump's bid for the presidency has torn at the seams of the real estate magnate's own party, spawning a movement of Republicans who vow never to support his candidacy. But now that Trump is the GOP's presumptive nominee, many of his fiercest critics within the party find themselves coming around — though not necessarily with great enthusiasm.
Read more: Donald Trump Just Hit a Huge New Milestone
Here's a look at some of the most prominent GOPers to make the flip.
Lindsey Graham
This one came as a shock to seasoned observers of the South Carolina senator, one of the party's most fervent champions of immigration reform.
During his ill-fated presidential run last year, Graham pronounced himself "disgusted" with Trump's proposal for a temporary ban on Muslims entering the United States, telling CNN that his party's frontrunner was a "xenophobic, race-baiting bigot." So intense was Graham's loathing for Trump that the senator held his nose and endorsed nemesis Ted Cruz in an effort to thwart the billionaire.
Even after Trump vanquished Cruz in the Indiana primary, effectively clinching the nomination, Graham remained adamant that he wouldn't support his party's presumptive standard-bearer:
And now? CNN reports that Graham — who still has no plans to publicly endorse Trump — is privately urging top Republicans to fall into line behind Trump.
A possible turning point? The two men held a phone call on May 11 to discuss foreign policy and national security — a discussion Trump described as "very interesting" and Graham called "cordial [and] pleasant."
Rick Perry
Seeking to gain traction during his short-lived campaign for the nomination last year, the former Texas governor was unsparing in his denunciation of Trump.
Speaking in July — as Trump first sat atop polls of the GOP field — Perry inveighed against Trump's candidacy as a "cancer on conservatism" that "must be clearly diagnosed, excised and discarded."
Ending his campaign in September, Perry went out with guns blazing, saying, "Demeaning people of Hispanic heritage is not just ignorant, it betrays the example of Christ."
Fast forward to this month, when Perry told CNN that while Trump "wasn't my first choice," he was "going to be open to any way I can help" — including by serving as Trump's vice presidential running mate.
"He is one of the most talented people who has ever run for the president I have ever seen," Perry said.
Scott Walker
Once seen as a leading contender for the Republican nod, Walker struggled for oxygen in a race remade by Trump's improbable candidacy — and facing grim fundraising figures and even grimmer poll numbers, the Wisconsin governor quit the race in September. At the time, Walker said he was stepping aside to "clear the field" for a "positive, conservative alternative to the current front-runner."
One day after Trump's victory in Indiana, however, Wisconsin Politics reported that Walker said he would "clearly" support Trump in the general election, citing his belief that Trump would be better than likely Democratic nominee Hillary Clinton on taxes, Supreme Court nominations and government regulation.
Kelly Ayotte
One of the Senate's most vulnerable Republicans up for re-election in 2016, Ayotte told Fox Business' Neil Cavuto in July, "I don't support what [Trump] has done and I don't think he will be our nominee. So I don't think I'll have to worry about supporting him."
But now that Trump and Ayotte will appear on the same ballot, after all, the New Hampshire senator is reluctantly supporting him — though there's no formal endorsement forthcoming.
"As she's said from the beginning, Kelly plans to support the nominee," a spokeswoman told WMUR after Trump became the presumptive nominee.
Bobby Jindal
What does Jindal call Donald Trump — besides a "narcissist" and an "egomaniac" with "no understanding of policy"?
His choice for president, of course.
The ex-Louisiana governor and failed 2016 candidate penned a May 8 op-ed for the Wall Street Journal stating that while he was still dismayed by Trump's "outlandish behavior" and doubted his reliability on conservative issues, he preferred Trump's unpredictability to Clinton's "predictable" liberalism.
Anthony Scaramucci
The Wall Street Journal must be the go-to destination for anti-Trump Republicans to explain why they're now backing him, because it's also where hedge funder Scaramucci wrote on May 15 that Trump would bring "empathy" and a background as a "pragmatic entrepreneur" and "team builder" to the White House.
Vanity Fair reminded readers of what the GOP megadonor had to say before Trump emerged triumphant: Trump was a "hack politician," he'd charged, doomed to "eventually implode" and qualified to be president only of "the Queens County Bully Association."
Nikki Haley
When the South Carolina governor was tapped to deliver the GOP's official response to President Barack Obama's State of the Union address in January, her selection was seen as a rebuke to Trump. The Indian-American daughter of immigrants, then only 43, offered a sharp contrast to the man leading the polls for the party's nomination.
Haley used her response to implicitly jab at Trump, warning Americans against "follow[ing] the siren call of the angriest voices." One month later, Haley endorsed Sen. Marco Rubio of Florida, but that didn't stop Trump from winning the Palmetto State primary.
Now that he's poised to claim the big prize, Haley's on board the Trump Train — kind of. The Charleston Post and Courier quoted the governor as saying that she would "support the Republican nominee for president," though she ruled herself out of contention for the vice presidency.