'The Bachelorette' With JoJo Fletcher Is Premiering This Week — Here's Why You Should Care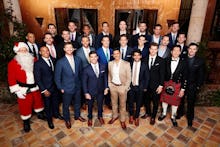 On Monday night, a fresh-faced crop of eager contestants will pull up to the Bachelorette mansion to compete for this season's star, JoJo Fletcher's hand in marriage — thus launching us into another series of bizarre group challenges and private helicopter rides culminating in a painfully scripted yet still somehow cry-worthy proposal. 
But if we've seen it all before, why is the 2016 season of The Bachelorette even worth watching? Well, for starters, just because it's familiar, that doesn't mean it won't be fun to watch.
Don't mess with success.
Anyone who knows even a little bit about The Bachelor and The Bachelorette empire will recognize some of the ways in which the series spawns and re-spawns its stars. This season's titular bachelorette, JoJo Fletcher, was the runner-up to win Ben Higgins' heart on the latest season of The Bachelor. And Ben, in turn, was rejected on an earlier season of The Bachelorette.
You can basically connect every bachelor and bachelorette in the show's history through a long, convoluted chain of inheritance (let's not even get into Bachelor In Paradise) which means that many viewers tuning in will already know all about 25-year-old JoJo Fletcher, including the deets behind her ex-boyfriend Chad and her very protective older brothers back home in Dallas. Which means that, since we already know all about JoJo, we the people can serve as the best judges of her romantic life. Right?
And don't forget about the contestants.
Part of the fun of every new season of The Bachelor or The Bachelorette is evaluating all of the contestants as they vie for the attention of the main attraction. As with most seasons, some of the men in this new crop of hopefuls seem to be OK and some, of course, seem absolutely terrible. But that's part of the fun! 
There are 26 men competing in the race to marry JoJo Fletcher — and of course, because it's The Bachelorette, some of them seem truly bizarre. Evan, 33, lists his occupation as "erectile dysfunction expert"; Grant, 27, hates girls who talk about Harry Potter; Nick S., 26, says he dislikes "scary cheeses"; and Daniel, 31, a male model, refers to his body as "a Lambo."
As with all seasons, one of these men will likely emerge as a "villain," there will be a couple who seem too good to be true and there will inevitably be some shouting matches over whether or not so-and-so is "here for the right reasons." Can't wait.
Knowing it's fake doesn't mean we can't still like it.
This upcoming season of The Bachelorette will overlap with the new season of Lifetime's scripted show UnREAL, which is set behind the scenes of a fictionalized version of The Bachelor. And UnREAL, co-created by a former Bachelor producer, portrays the scheming, manipulation and string-pulling that goes into making a very Bachelor-like show-within-a-show.
Obviously the information is out that that some (and maybe even most) of what viewers see on The Bachelor and its spinoffs is pure entertainment — made-up conflicts, posturing for the cameras and clever editing — but that doesn't stop us from watching. 
After all, those producers are good at putting together a story. And yes, millions of American women will tune in each week to watch a competition with the end goal of marrying someone you've only known for a few months, but isn't the ludicrousness of the setup part of the appeal? 
Much has been said about why so many women still watch The Bachelor and The Bachelorette despite the rampant sexism, lack of diversity and bizarrely restrictive attitude towards sex in relationships — but it's hard to say for sure what keeps viewers coming back season after season. Maybe the best thing about the Bachelor franchise is that it holds up a warped funhouse mirror to our society. And whatever we see reflected in there keeps us coming back for more.
This season of The Bachelorette premieres Monday, May 23 at 9 p.m Eastern on ABC.
Read more: Why Women Still Watch 'The Bachelor' Even Though They Know It's Terrible