A Drone Flew Over 70 Sharks Destroying a Whale — And the Result Is Terrifying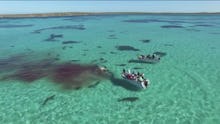 Have you been horrified by the future yet today?
Thanks to the wonder of high-flying drones, a cruise line was able to capture aerial footage of a frenzy of sharks feeding on a humpback whale. 
The video, shot by Eco Abrolhos cruises, shows two boats of tourists on an island adventure cruise at Dirk Hartog Island watching as a school of tiger sharks feed on the dead whale in what the cruise line calls "truly amazing" in a Facebook post. 
Not even Spielberg's cinematographic genius and big-ass animatronic shark can stack up to the truly amazing savagery of mother nature.