'Blue Lives Matter' Bill to Make Attacking a Police Officer a Hate Crime in Louisiana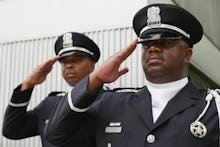 The state of Louisiana may soon have a law designating attacks on police officers, firefighters or EMS personnel a hate crime, courtesy of a bill nicknamed after the Blue Lives Matter catchphrase, CNN reported.
If the bill is passed into law — and now that it has passed both houses of the Louisiana state legislature, Gov. John Bel Edwards intends to sign it — the state will be the first "to have such as law on its books," according to CNN. In the text of the bill posted to the state legislature's web site, the law implements penalties of "an additional consecutive sentence of imprisonment with or without hard labor for not more than five years, a fine of not more than $5,000, or both."
Battery of a police officer is already a separate crime in Louisiana state law. Violence against law enforcement has plummeted nationally over the past three decades, leading some to question whether the law is necessary or just an underhanded maneuver to paint police as the victims amid national furor over use of force by law enforcement officers themselves.
Blue Lives Matter is itself intended as a rejoinder to Black Lives Matter, the name of a nationwide protest movement determined to put an end to police killings of young black men. Louisiana is a world leader in incarceration, with 816 per 100,000 residents serving time. They are disproportionately black.
Louisiana "holds a record number of prisoners serving life without parole for nonviolent crimes, over 90% of whom are black," reported Rolling Stone in 2014. " Among black men in New Orleans, one in seven is serving time, or out on parole or probation."
The state's prisons are notoriously violent, with prisoners living in terrible conditions.
"This bill is an attempt to counter the very vocal, visible and effective tactics of the Black Lives Matter movement and paint the police in a more sympathetic public light when in reality, they are increasingly more violent and violence against them is actually decreasing," Katwiwa, a New Orleans-based organizer, told NBC BLK.
"Hate Crimes are designed to protect people's most precious identity categories, like race, religion, gender, sexual orientation, disability, ethnicity, and gender identity," Anti-Defamation League Regional Director Allison Padilla-Goodman told CNN in a statement. "Proving the bias intent is very different for these categories than it is for the bias intent of a crime against a law enforcement officer."
However, Louisiana legislators seemed squarely on the side of police. According to the Washington Post, the bill received unanimous approval in the state House, while the Senate voted 33 to three for it.
Read more: A Louisiana Cop's Insanely Racists Texts Capture a Serious Problem With America's Police