Facebook Blocks Photo Featuring Plus-Size Model Tess Holliday From Being Promoted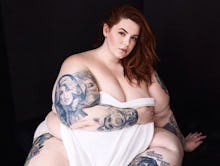 A monthly feminist talk show attempted to promote its upcoming show discussing body positivity and fat shaming with a photo featuring plus-size model Tess Holliday, but was denied the ability after Facebook deemed the post "depicts a body or body parts in an undesirable manner." 
In an attempt to correct the situation, Cherchez La Femme contacted Facebook alerting them of the post's denial but was told the post would not be promoted across the social media platform unless they recreated it with a different photo, providing examples "such as running or riding a bike" instead of using an image of a body-positive plus-size woman with clothes on.
One of the show's hosts, Jess, shared screenshots of the interaction with Facebook's ads team, writing, "Facebook has ignored the fact that our event is going to be discussing body positivity (which comes in all shapes and sizes, but in the particular case of our event, fat bodies), and has instead come to the conclusion that we've set out to make women feel bad about themselves by posting an image of a wonderful plus sized woman."
"We're raging pretty hard over here — both because Facebook seemingly has no idea that plus sized, self describing fat women can feel great about themselves, and also because we haven't been able to boost the original damn post," she continued. "If Facebook won't let us boost our event, we'll do it ourselves."
Holliday's photo used in the Facebook post shows her smiling directly at the camera in her underwear, proudly showing off her curves with her hands up in the air. There's no nudity or graphic imagery, but Facebook told the show's host they block any images they consider unflattering, including "close-ups of 'muffin tops' where the overhanging fat is visible," as well as "people with clothes that are too tight."
Cherchez La Femme's show will go on however, in Victoria, Australia, on June 7. Though the ad could not be promoted, it's still on Facebook, featuring the glamorous model and the title of the upcoming event: "Feminism and Fat."
Read more: Tess Holliday Posted a Nearly Nude Pregnancy Photo to Make a Point About Fat Shaming