These 2 Men Kissed in Front of an Angry Parade of Neo-Nazis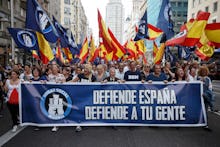 David Fernández and Gregor Eister were out on a date Saturday when they happened to stumble upon a parade of members of Hogar Social Madrid, a Spanish neo-Nazi group, reported BuzzFeed News.
When members of the Hogar Social Madrid spotted Fernández and Eister, they began to hurl gay slurs at the two men.
"They stared, yelling things at us like 'faggot,'" Fernández told BuzzFeed. "So I turned to my friend and did what I thought would annoy them the most."
They went in for the kiss.
The far-right group was marching through the city to protest the arrival of refugees.
Footage of the kiss went viral, including a video in which Spanish police appear to be trying to stop the men.
This isn't the first time kissing has been used to make a statement: Earlier this month, a gay rights group in Montreal staged a "kiss-in" after a gay couple was allegedly beaten for showing affection in public.