Chewbacca Mask Prices Soar on Amazon After Woman's Viral Video in Kohl's Parking Lot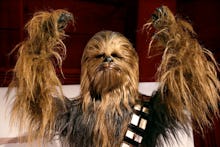 On Thursday, millions of Facebook users discovered Candace Payne's Facebook Live video showing the Texas mom in a Kohl's parking lot trying on the Chewbacca mask she had just purchased for herself. As Payne dissolved into a fit of laughter, hearts became a little lighter.
But for those clamoring to get their hands on the same mask, wallets will also get lighter. Following the video's viral success, prices for the Star Wars memorabilia have skyrocketed. According to Kohls.com, Payne likely bought the Chewbacca mask, originally priced at $44.99, on sale for $17.99.
Read more: 'Rogue One: A Star Wars Story' Is Pissing People Off With Its Female Lead, Felicity Jones
Clicking through to the item's page on the site, however, brings customers to a page informing them the product is out of stock. And a search on Amazon reveals the mask isn't such a steal anymore, with prices ranging from $76 to as much as $213. According to a tweet from BuzzFeed News deputy director Jon Passantino on Friday, mask sales went up 916,298%.
When on the same day Kohl's thanked Payne for making "the internet's day" with Chewbacca masks for the rest of her family and a slew of other Star Wars-themed merch, fans tweeted at the company asking when more masks would be available.
The company replied, "Our inventory is constantly updating. Please keep your eyes peeled!"
Anyone concerned the Facebook Live video was nothing more than a sneaky advertising stunt, can rest assured Payne's intentions were only pure of heart, according to an interview with BuzzFeed.
She told the site, "I just really wanted to put it on Facebook for some of my family and some of my stay-at-home mom friends maybe to see if they could just rejoice with me."
Read more: A Woman Cracking Up at Her Chewbacca Mask Just Broke Every Facebook Live Record Possible