Wisconsin Is Drunk as Hell Compared to the Rest of the US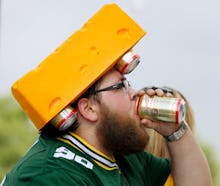 Americans love boozing, but no state likes to hit the bottle quite like Wisconsin. According to an analysis from 24/7 Wall St., 12 out of the top 20 drunkest cities in the U.S. are located in Wisconsin. 
Appleton, Wisconsin, topped out the list, and the other Wisco cities included Green Bay, Oshkosh-Neenah, Madison, La Crosse-Onalaska, Fond du Lac, Eau Claire, Wausau, Sheboygan, Racine, Janesville-Beloit, and Milwaukee-Waukesha-West Allis. 
Which other cities love their beer and liquor? Here's the list in full: 
20. Corvallis, Oregon
To compile this booze-loving lineup, 24/7 Wall St. examined the percentage of adults who report binge or heavy drinking in 381 metro areas. Data came from the County Health Rankings & Roadmaps, a collaborative effort from the Robert Wood Johnson Foundation and the University of Wisconsin Population Health Institute. 
Nationally, more than 15% of adults report binge drinking, according to the Centers for Disease Control and Prevention. But in Appleton, Wisconsin, the so-called drunkest city in America, the binge drinking rate is up to 26.8%. The city also has the ninth highest concentration of bars in the U.S.. (La Crosse-Onalaska, WI-MN takes that award, with 6.9 bars for every 10,000 people.) 
Chalk it up to the Midwest's earliest immigrants. The Washington Post noted many Scandinavians and Germans (both cultures with a strong history of brewing and loving beer) moved to Wisconsin, Minnesota and North Dakota. And it only makes sense that one might need a hoppy brew to wash down award-winning Wisconsin cheese, right?  
If you hate alcohol (and fun), there are plenty of American cities where you won't live and work with a bunch of alcoholics. Provo-Orem, Utah, home to many Mormons that don't drink alcohol for religious reasons, is the driest city in the U.S. A mere 9.2% of adults in this city drink excessively.