Besties Barack Obama and Anthony Bourdain Got Chummy Over Pork and Beer in Vietnam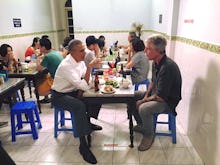 Barack Obama is living his best life in the final year of his presidency: He's literally dropping microphones, freestyling with Hamilton creator Lin-Manuel Miranda and now, dining with TV host Anthony Bourdain in Vietnam.
The pair ate together in the capital city of Hanoi and, according to a press release, scenes from the dinner will air in the upcoming season of Bourdain's CNN show Parts Unknown. 
POTUS has a history of frequenting hip spots when dining out, but the duo stuck with a restaurant called Bún ch? H??ng Liên that was more low-key and less Michelin-star, according to a tweet from Wall Street Journal correspondent Carol Lee.
The restaurant specializes in its namesake dish bún chà, a grilled pork and rice noodle salad that's a speciality of Hanoi. The budding bromance was celebrated with a couple of beers, something Obama has been known to enjoy. 
More than 500 people gathered outside the family-run eatery to catch a glimpse of the pair, VN Express reported. Despite the many eyes watching, Obama was a real pro when it came to using chopsticks, Bourdain noted on Instagram (pictured above). 
When dinner ended, the check was not expensed by the White House, surprisingly. "Total cost of Bun cha dinner with the President: $6.00. I picked up the check," Bourdain tweeted.  
Cheap date, huh?