Meet Artist Markus Prime and His Badass Team of Black Female Superheroes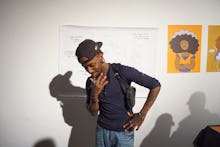 A girl named India zooms in on her iPhone as Markus Prime sketches on a canvas in a crowded Brooklyn studio. Glancing up from her screen, she watches in a trance as the Los Angeles-based artist creates before her eyes a world she's never seen: a legion of black female superheroes, of all different shapes and sizes. 
For Prime, an artist whose career has exploded thanks to a unique style of black female body positivity in superhero art that he shares freely across social media, the black body is a constant source of inspiration. His recently released book, B.R.U.H.: (Black Renditions of Universal Heroes), reimagines mainstream superheroes from the DC and Marvel universes, Japanese anime and cartoons like Pokémon and Power Puff Girls, as powerful black women spanning the spectrum of size and skin color. 
Perhaps unsurprisingly, Prime's most enthusiastic fans are made up of children. Like India.
"Little black girls want to see superheroes with hair like theirs," India's mother says at Prime's live-drawing event, which he advertised on Instagram as a family friendly function. 
Two little boys run through the venue toward a sketch of a woman in a Superwoman-like uniform. "Mom, this is the one I want!" shouted one.
For Prime, an Ohio-born military brat who grew up on bases around the country and overseas, representation in art means including all sorts of hairstyles, body types and characters. He's even started playing around with gender, as indicated by a recent drawing of a gender fluid character with breasts and a beard — which he captioned "Your comfort level is not important here" on Instagram.  
"People don't realize representation in art is an issue because it simply is not there," Prime said. "Except for Steven Universe's Garnet, there isn't a single black superhero young girls can relate to. So the impact of including black women in comics and film is extremely important. ... We need our own Harry Potters, too."
Prime's art comes at a critical moment for representation: Black Panther, the first Hollywood blockbuster superhero film to feature a black lead, is in production with an unapologetic emphasis on inclusion. 
"The image of a black hero on this scale is just really exciting," Joe Robert Cole, the film's writer, told Mother Jones for a story published in February. "When I was a kid, I would change superheroes' names: Instead of James Bond, I was James Black. Instead of Batman, I was Blackman. And I have a 3-year-old son. My son will be 5 when Black Panther comes out. That puts it all into perspective for me."
Prime agrees, noting the abundantly positive response to other films including representation, like the latest Star Wars. "[Black Panther] isn't even out yet, but the looks on these kids faces, being able to buy those t-shirts and toys, and seeing a little boy identify with a superhero like, 'Oh, this is me,' gives them a relatable character they crave."
The rest of Prime's 2016 will be focused around producing his first comic book. The work, he says, will focus on a young woman with the ability to transcend between reality and fantasy, and will bear a similar emphasis on inclusion to that of actor Amandla Stenberg's comic series Niobe: She Is Life, about a young black female superhero.
But Prime realizes there's more to truly educate children on black excellence, he insists inclusion in art will only go so far.
"Representation in the classroom might even be more important than in art," he said. "A black child's empowerment is taken from her when she doesn't get to fully learn about it. We need to be hearing the whole story of the black plight, the same way we do of the Holocaust in our schools."
"In order for all black children to connect with their ancestors, we need to include Malcolm for the boys who might not relate with Malcolm," Prime continued. "We need to include Angela for the girls who may not relate to Rosa."
The artist says he's especially happy to see that technology is enabling children of all backgrounds to create and share their art with a global audience. His only message to the youth, he says, is "be genuine." 
"Everybody might not feel the same way as you, but someone will," Prime said. "So, create art. Put it on a canvas. Write it on a wall. Dance. Making art is the heartbeat of society, and we live in a world where we directly affect politics, as well as every social issue. But the kids already know that."
Still, not all art forms wield that power responsibly. A 2010 study of inclusion found "black and Latino [television] characters were significantly more likely to be shown as being less intelligent compared to whites," so reversing that trend with fair and diverse representation across media is not just important — it's necessary.
And who better suited to tackle that than a superhero?