A Secret Beyoncé, Jay Z Album Is Reportedly Coming to Tidal "Very Soon"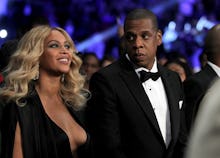 Beyoncé and husband Jay Z have supposedly finished recording an album together, one that'll drop on Tidal, Jay Z's music streaming service, "very soon," Page Six reported Sunday. A joint album would be Beyoncé and Jay Z's first. 
Among the powerhouse couple's past collaborations were songs "'03 Bonnie & Clyde," "Crazy in Love" and, most recently, "Drunk in Love" — off Beyoncé's eponymous 2013 album — and "Part II (On the Run)," off Jay Z's 2013 Magna Carta Holy Grail. 
Page Six cited anonymous sources in its exclusive report. Neither Beyoncé nor Jay Z have confirmed reports they've finished an album together. However, rumors of a collaborative album have circulated since at least 2014, according to Rap-Up. That year, the couple toured together, further fanning rumors of a Beyoncé-Jay Z album. 
Read more: Beyoncé's Mom Tina Knowles Reveals the True Meaning of 'Lemonade'
In February 2015, record producer Detail, who produced Beyoncé's "Drunk in Love," said at the Grammys he was "doing something together this year" with the couple, which some took to mean he was producing their album. "When you think of Jay and Bey together, you think 'album,'" he told Billboard. "You should already know."
If Jay Z and Beyoncé have finished recording an album together, it would only further put questions about their supposedly fractured marriage center stage. The couple's relationship has come under increased scrutiny following the release of Beyonce's Lemonade on April 23, which centers on a woman's scorn over an unfaithful husband. 
While it's unclear whether the album was autobiographical, it certainly had fans wondering whether their marriage was on rocky ground. Rumors intensified after Beyoncé attended the Met Gala earlier this month, her first red carpet appearance since Lemonade's release, without her husband. They married in 2008. 
Shortly after Lemonade dropped — on Jay Z's Tidal, nonetheless — fans began speculating about a possible response album from Jay Z. "Jay is working on an album telling his side of things," a source told Us Weekly, according to the magazine.