29 Very Successful People Who Didn't Make It Big Until Later in Life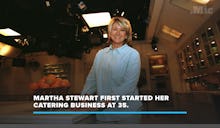 Don't let child prodigies like Justin Bieber get you down. 
Sure, he released four studio albums by age 22, and you're still figuring out what to do after you wake up every morning.   
Moments of inspiration, creative genius and clear direction come at unexpected moments. Many of the world's most talented, storied professionals didn't hit their professional stride, let alone their start, until later in life.
Here are 29 of them:
Correction: May 24, 2016