Keke Palmer Claps Back in the Classiest Way at Trolls Making Fun of Her No-Makeup Selfie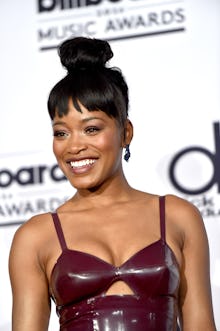 When it comes to things that truly matter versus the superficial, actress Keke Palmer seems firmly rooted in reality.
After posting a selfie showing her bare, makeup-free face on Snapchat over the weekend, Palmer was dragged across social media, with trolls commenting on her audacity to not be red carpet-ready all the time.
But, don't worry: Palmer is above internet trolls shaming her for who she is.
In an Instagram post uploaded Monday, the 22-year-old revealed she wasn't even going to bother responding to the hate. "I didn't even want to make a post for it, but I keep seeing people saying, 'Leave Keke alone,' or, 'Why are you being mean to Keke,'" Palmer captioned the post, which showed two photos: one of her wearing makeup, the other without.
"Keke is fine because Keke knows who she is. Keke doesn't care to conform to what people thinks she should be," Palmer continued. "#IDontBelongToYou — And Keke knows that love is the only real thing out there, everything else is delusion."
Palmer acknowledged her so-called "imperfections," but she quite frankly doesn't give a shit. "From the acne scars on my skin to the unwanted nude color on my toes, hahaha. I can only be me, and if it's not enough for anyone else, that's alright with me!" Palmer wrote.
Palmer wanted her fans and supporters to know she's OK, and you shouldn't feel sorry for her:
"So don't feel bad for me, I'm not a fucking victim or a hero. I'm just a regular girl with a cool job. But I'm just a girl nonetheless. Now let's stop acting like everything celebrities do is profound, lol. 'Cause real talk, y'all know me taking off my makeup is not news. #StopBeingDramatic #JustBeingHonest."
Read more: Keke Palmer Is Being Attacked by Twitter Trolls for Posting a No-Makeup Selfie on Snapchat