High School Senior Walks for the Very First Time — At His Graduation Ceremony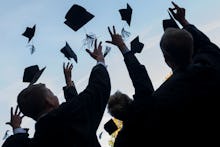 The day of Micah McDade's graduation was special not just because he got his diploma — the high school senior also walked for the first time, as his classmates and family cheered him on.
McDade, a senior at Okmulgee High school in Oklahoma, has cerebral palsy and uses a wheelchair, according to Okmulgee News Network. But on Friday, after hours and hours of practice, he walked across the stage to get his diploma.
The entire crowd gave him a standing ovation and, as the Okmulgee News reported, "there was barely a dry eye in the audience."
Read more: This Legally Blind Woman Got to See Her Daughter's Wedding, Thanks to Science