Helen Hunt Gets Mistaken for Jodie Foster at Starbucks, Is All of Us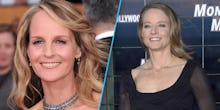 No one is safe from the maniacal, misinformed scribbles of Starbucks' baristas. 
Not even Helen Hunt.
On Monday, the star was mistaken for also-blonde-but-not-at-all-Helen-Hunt-lookalike Jodie Foster while ordering what seems to be a shaken iced tea of some kind.
Hunt tweeted:
"Ordered my drink @Starbucks Asked the barista if she wanted my name. She winked and said. "We gotcha" #JodieFoster
You know what they say about making assumptions. It is worth noting that even if Helen Hunt were Jodie Foster, the confident barista would not have spelled her name correctly, either.
For reference, here is a side-by-side of the two talented actors. 
This incredible story sheds light on the fact that not even celebrities are exempt from the mercilessness of the green-aproned folk who work the Starbucks counters and dole out caffeine to more than 60 million people every week. 
The humanity of it all is almost too much to handle.