Pizza Hut's S'mores Cookie Pizza Might Be the Only Thing Better Than Pizza Itself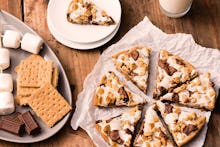 It's nearly impossible to improve pizza, but Pizza Hut has seemingly found a way. The chain debuted its Hershey's Toasted S'mores Cookie on Monday. 
The concoction swaps vegetables, cheese and sauce for chocolate, cookies and marshmallows.
Consumers might have to swap their pants for a bigger size too: The dessert cookie pizza features a large chocolate chip cookie base topped with chunks of Hershey's milk chocolate, graham cracker pieces and many mini marshmallows (no complaints here).
The whole situation costs $6.99 and is available for the summer — which is great news for taste buds and not-so-great news for anyone who's already purchased their swimsuit for the season.
The world is currently undergoing a widespread s'moresification. The popular campfire treat has debuted in everything from a Frappuccino flavor to a french fry topping to beer — and there are probably s'more products on the way.