Bernie Sanders Warns of "Messy" Democratic Convention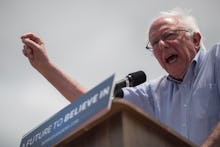 Bernie Sanders is warning that the Democratic National Convention could get "messy" this summer, as the Vermont senator and his supporters attempt to make the party's platform more progressive.
"I think if they make the right choice and open the doors to working-class people and young people and create the kind of dynamism that the Democratic Party needs, it's going to be messy," Sanders told the Associated Press in an interview published Monday night. "Democracy is not always nice and quiet and gentle, but that is where the Democratic Party should go."
Sanders added that he would "condemn any and all forms of violence," but expressed no remorse if the party's meeting to certify the Democratic presidential nominee does get messy.
Read More: Bernie Sanders Finally Goes There, Calls Hillary Clinton "Lesser Of Two Evils"
"So what?" Sanders told the AP. "Democracy is messy. Everyday my life is messy. But if you want everything to be quiet and orderly and allow, you know, just things to proceed without vigorous debate, that is not what democracy is about."
On Tuesday morning, Sanders went on to clarify his comments about the "messy" convention, saying his definition of "messy" was misconstrued.
"The media takes words out of context ... the context of that is democracy is messy. That people will have a vigorous debate on the issues," Sanders said on NBC's Today.
Democratic officials have expressed concern over possible chaos at the DNC after an incident at a Democratic convention in Nevada to certify the state's primary results. Sanders supporters got rowdy at that convention, allegedly throwing chairs and issuing threats to party officials.
Some of Sanders' most fervent supporters have already begun to organize a protest outside of the convention in Philadelphia.
And while it's unlikely Sanders will be the Democratic nominee — as Hillary Clinton is currently 90 delegates away from clinching the nomination, according to the New York Times — the DNC has already begun to make concessions to Sanders.
On Monday, the DNC announced that Sanders' team got to appoint six of the 15 members of the committee that will draw the party's platform at the convention in Philadelphia — a rare concession the Washington Post called "unprecedented" for a likely runner-up.