The US Cigarette Smoking Rate Just Plummeted — But It's Not All Good News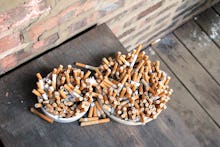 A new government report from the Centers for Disease Control and Prevention points to a sharp decline in cigarette-smoking across the United States in 2015, dipping 2%, the largest one-year reduction in two decades. 
The report counted roughly 15% of American adults as smokers in 2015, down from 17% in 2014. Concerted anti-smoking efforts have generally led to annual reductions in smoking at a more moderate rate of about 1% per year, according to CBS. 
Smoking-related illness is a leading cause of death in the United States with more than 480,000 cases reported last year, according to the report.
The decline was attributed to factors including vociferous and widespread anti-smoking campaigns in the United States and the rise of another controversial item: e-cigarettes.
Though sales have cooled recently, the overall growth of the product's visibility has been inescapable in recent years, and studies have shown the product to be particularly popular with young people 
"We may see 18-, 19- and 20-year-olds pick up the habit," Dr. Jonathan Whiteson, a "smoking cessation specialist" at New York University's Langone Medical Center in New York City, told CBS. 
It has not, however, been an entirely smooth ascent. 
In January, a Canadian teenager suffered second-degree burns after a vaporizer exploded in his face. In April, a 14-year-old was blinded in a similar incident. Such episodes have become increasingly common, sometimes with gruesome results.
So smoking is down — but is the cure worse than the disease? Only time will tell.