In Praise of JoJo Fletcher, the Unrepentantly Thirsty New 'Bachelorette'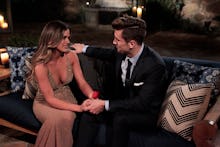 On Monday's premiere of season 12 of The Bachelorette, The Bachelor runner-up JoJo Fletcher met the 26 men vying for her heart. As might have been expected, she found some of the men very strange. 
But give a resourceful Texan woman like JoJo credit: She knows how to make lemons out of lemonade — which is good, because she'll need something to drink. Because she's deeply, unrepentantly, proudly thirsty.
Read more: The Worst Things About the New 'Bachelorette' Contestants, Ranked
During the two-hour premiere, JoJo didn't hide how ready she was to be courted and wooed by over two dozen attractive guys. "Bring on the men!" she shouted, as the first limo of guys rolled up. As they entered, she wasn't shy about sharing her commentary, not just on their personality, but on their attractiveness.
One man in particular, Jordan, brother of Green Bay Packers quarterback Aaron Rodgers, had JoJo practically falling over herself with glee at his looks, his kissing ability and, most importantly of all, his impressive derrière.
Twitter quickly took notice of her mounting thirst.
Why shouldn't JoJo be openly horny when meeting the gorgeous men whose only goal for the next several weeks is to date her? Her reaction is not only natural — it should be celebrated. But mere seasons ago, JoJo's thirst would have been cause for a verbal stoning from fans.
Too often in past seasons of both The Bachelor and The Bachelorette, contestants have stuck rigidly to the show's own sort of faux-romantic language: "I think I'm falling in love," "We have an instant connection," "He's not here for the right reasons," etc. That's not to say people don't say those things in real life, but they're also more frank about sex in real life. On these shows, the word "sex" is all but taboo, and to be reserved for the "Fantasy Suite" portion of the season.
Enter Kaitlyn Bristowe, the last Bachelorette. Unlike her 10 predecessors, the season 11 star broke with tradition and slept with one of her suitors before the Fantasy Suite. She also talked openly and honestly about sex in a way that was, quite frankly, groundbreaking. When confronted with online vitriol about her choice — the choice to have sex with a man she was actively dating, mind you, a choice men and women in real life make every day — she stood her ground.
It's not a leap to say Kaitlyn paved the way for a new kind of Bachelorette — a path JoJo seems to clearly be following. For those watching, the premiere was a signal that The Bachelorette is no longer about finding idealized, fairy tale, desexualized love. It's about finding true connection, on both romantic and erotic levels.
For that, JoJo Fletcher deserves praise. Go get what's yours, Queen Bachelorette.