Photographer's Epic Journey Into a Netherlands Prison Reveals an Unexpected Scene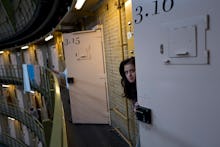 Pulitzer prize-winning Associated Press photojournalist Muhammed Muheisen has documented Europe's refugee crisis for years.
But when he heard that in the Netherlands, refugees and migrants were living in prisons, he had to see it for himself.
"I didn't want to believe it myself that prisons became shelters," Muheisen told Time.
Muheisen spent months convincing the government to grant him access to De Koepel facility in Haarlem, Netherlands, one of the prisons holding asylum seekers and migrants.
How did these refugees wind up living in prison?
The number of asylum seekers who need shelter in the Netherlands has recently skyrocketed. Meanwhile, the crime rate in the Netherlands has been declining steadily for years, leading to prisons shut downs.
So the Dutch government hatched a plan: 
House refugees seeking asylum in vacant prisons.
Muheisen, who has documented the lives of migrants in Europe and Asia for years. Once he was granted unlimited access, Muheisen spent several weeks visiting visiting refugees of all ages from dozens of countries, all waiting in a prison that's their temporary home to find out where they'll be sent next. 
He captured their experience from a stunning perspective:
Afghan refugee Shazia Lutfi, 19, peaks through the door of her bedroom, cell 3.16, on May 7.
An Afghan refugee gazes out the window of his cell while holding a child in his arms on April 10.
A 35-year-old Syrian refugee Alaa Mohammed watches television in his decorated cell on April 29.
A gay Moroccan migrant, who requested anonymity, poses in his cell on April 26.
Reda Ehsan, a 25-year-old Iranian migrant, sprawls out on a table in the central court of the former prison on May 6.
A volunteer teaches an Afghan refugee how to ride a bike in the yard of the former prison on May 2.
Algerian and Libyan migrants talk over cigarettes in the yard of the former prison on May 2.
On May 1, 24-year-old Yazidi refugee Yassir Hajji fixes his 18-year-old wife Gerbia's eyebrows in their cell.
Naaran Baatar, a 40-year-old Mongolian migrant shoots some hoops in the yard of the former prison on April 20.
Syrian refugee Fadi Tahhan, 23, sings and plays guitar at the former prison on April 21.
Refugees and migrants play soccer together in the central court of the former prison on May 10.