Marvel's Captain America Deserves a Boyfriend, According to Twitter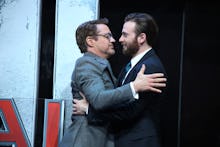 Marvel's Captain America fights for truth, justice and the American way, but late Sunday night on Twitter Marvel fans fought for something else. Give Captain America a boyfriend. 
While the first Captain America film, Captain America: The First Avenger, presented Agent Peggy Carter as a potential love interest for Steve Rogers, Twitter thought perhaps giving Rogers a man by his side would be a better idea. 
And #GiveCaptainAmericaaBoyfriend was born.
To fans, Rogers' perfect partner already exists: Rogers' best friend James Buchanan "Bucky" Barnes. 
Bucky was Rogers' childhood friend and war buddy, and even after Bucky tried to fight Captain, Rogers refused to give up on his brainwashed best friend. Captain America eventually ended up starting a whole civil war over him. 
Cue lots of adorable gifs of Rogers and Barnes staring at each other with warm, loving eyes. 
But not everyone wants Captain America and Bucky to hook up — some fans felt Tony Stark aka Iron Man would be the best fit for Rogers.
And a classic love triangle emerged: Who should Steve Rogers choose?
But then again, he doesn't have to choose. For some fans, monogamy was not the last stop on this hashtag train. One solution: give Rogers all the boyfriends. 
#GiveCaptainAmericaaGirlfriend comes only a few weeks after the Twitter campaign #GiveElsaAGirlfriend, which asked for better LGBT representation in the children's movie franchise Frozen. Both Frozen and the Marvel Cinematic Universe are properties of Disney, who received a failing grade from LGBT advocacy group GLAAD for their lack of LGBT representation in its films.