Here Are 5 Ways Bernie Sanders Can Win at the Convention, Even if He Loses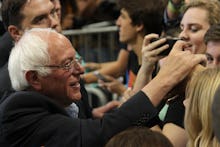 In recent weeks, Sen. Bernie Sanders has been demanding the Democratic Party establishment to "open its doors" to his campaign and its supporters. It appears the party is now making efforts to do just that.
According to the Washington Post, Sanders has been allowed to name five members of the 15-member committee that plans the Democratic Party's official platform that will be presented at the party's national convention in July — an unusual move that signals the party's desire to acknowledge and include Sanders' establishment-rattling insurgency.
The Democratic National Committee's rules allow the party's chairman to pick the group of 15, but this year the ideological rifts that have opened up in the wake of Sanders' campaign have compelled the party to apportion the assignment of contributors to the party platform differently, according to the Post. The party chairwoman, Debbie Wasserman Schultz, was given four picks, and Clinton six. Clinton received one more member than Sanders based on her significant lead in the popular vote.
Read more: Bernie Sanders Warns of "Messy" Democratic Convention
Sanders has wasted no time in using the opportunity for activism designed to pull the Democratic platform further to the left. His members include environmental activist icon Bill McKibben; scholar and racial justice advocate Cornel West; the leader of the Congressional Progressive Caucus, Rep. Keith Ellison of Minnesota; Arab American Institute head and pro-Palestinian advocate James Zogby; and Native American activist Deborah Parker. Additionally, according to another Washington Post report, Sanders' policy director will have a hand in the committee's discussions, although he will not have formal voting power.
Sanders players at the drafting table could push for any number of initiatives, but five big ones that would mark a major victory for Sanders' campaign over Clinton's more centrist approach would include:
- an agenda to break up big Wall Street banks
- a carbon tax
- a call for an end to the death penalty
- any kind of language on foreign policy that reflects Sanders' less-interventionist stance, which he's touted in drawing the contrast with Clinton
The party's platform isn't binding — and presidents have departed from them in the past — but they signal the party's priorities and direction. Should Sanders' members succeed in winning any major progressive concessions from the other members of the committee, it could go some way in convincing his followers that the party establishment is sincerely interested in their support.